# Get started publishing
Publishing mods
DISCLAIMER: Only if you are the author of the mod, you are allowed to upload it for legal and moral reasons.
Be advised: This is feature is currently in a beta state. Aspects of design and implementation are subject to change.
VIDGuide on mod Management: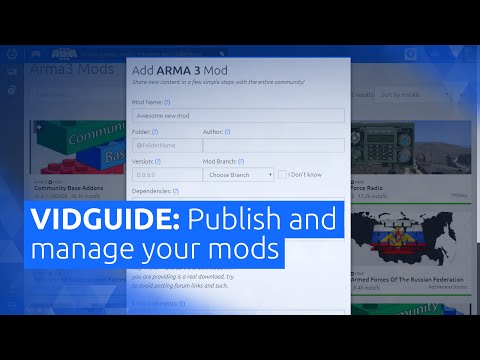 Advantages withSIX
Upload new mods or updates
Automatically process and synchronize submitted data for distribution
Detects and sorts out missing keys for multiplayer compatibility for servers with signature system active
Adjusts misplaced files' location and faulty modfolder structure
Submit a new mod
Login into your account on the website
Goto to the Stream or the mod listing page
Click on "ADD MOD" to open the dialog to start the process
Enter the required information
Click on "Next" to submit your mod
Wait unil the new mod is being uploaded and processed - you will get notified by mail once it becomes available
While waiting, take the chance to fill your newly created page for your content with information, tags, images and a good description
Notes:
First time submissions will have to await confirmation as a protection against unwanted activity
You will be notified via email if your mod submission/update has failed and the reason
Update your existing mod
Login into your account on the website
Browse to your content page
Click on "Upload New Version" button in the Edit Panel on the right
Enter the required information and click on "Accept"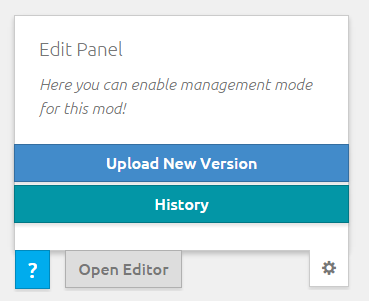 Notes:
Only submit FULL UPDATES - due to limitations we can´t process patch files
Every update requires a new version number. It cannot be identical or smaller than the previous one
Outlook
Milestones:
Our next focus is to make sure the back-end is reliable, robust and even more automated.
For the mid term we aim to add a status page with a progress overview and the management of previous released versions.
The Goals:
Simple submission/update portal, that uses existing download links
Full automated restructuring and network syncing
Allow for authors to directly handle their content
Provide a suggestion form for users to add other authors content with proper credits and license
FAQ
Q: What to do when I have issues submitting/updating my mod? A: Write us a comment on GTSFN with the details about the mod you wanted to upload and what the issue is.
Q: How can I submit my mod without the submission form? A: Submit your mod as a request on: Mod Request Topic
Claiming mods
This allows you to update the page and data of your mod, in case it was initially uploaded by the withSIX team.
Login into your account on the website
Navigate to your mod page at Play withSIX
Click the "this is me" link on the bottom right area next to the author name
This will initiate the process to connect the mod to your account
Follow the on-screen instructions
Dependencies
If another mod is required for your mod, you need to define it as a dependency on your mod page. To do so:
Login into your account on the website
Goto your mod page
Click the "Open Editor" button in the center right menu
Press the "Add Dependency" button in the bottom right
Select the required mods (@modname)
Save the changes
Collections
To share and play your mod along with other mods with your friends, you need to create a collection. Learn how to create and share it here.
Mod packs
Instead of uploading all the mods your community uses, you have to create a collection (see above) as only authors are legally allowed to upload their content. In case your modpack also contains your own mods, upload them (one by one) to our site (see above). If you want to keep your mods private, you can use custom repositories for that.
Mission upload process
Login into your account
Select the desired game and follow the Upload the mission link at the top or bottom of the game's missions page
Select Upload a new mission
Enter mission name and select the mission pbo file. Hit the Upload button and wait for the data transfer to complete
Move onto your content page Note: You can access the content page also via the top right drop down menu
Note: The server processes the mission to extract some information. If it is not yet ready, refresh the page after a minute – if it never completes, please contact us Once the mission is ready, select start publishing for the mission
Set the description text, version number and playability (SP and/or MP), as well as mod dependencies. Once done hit the Publish version button
Finally you can attach promotion images, link youtube videos and create a list of mission features and tags
Adjusting mission information
Login into your account
In the top right select content in the drop down menu
Click the desired mission to adjust
Top right hit the Edit mission button/tab
Upload newer version of a mission
Login into your account
Directly go to Upload a mission page
Select Update one of my missions
Select the desired mission to update and the updated mission pbo file. Once done, hit the Upload new version button
Feedback and support
In case of any issues, feedback or in need of support, please don't hesitate to contact us via Support.